www.hovedsteder.blogg.no is a Norway-based blog about the capitals of the world, with a focus on tourism and travel, the environment, diplomatic affairs and politics, lifestyle, culture and entertainment, food and drink. See also our travel blog at www.minbestereise.blogg.no – Contact us at [email protected]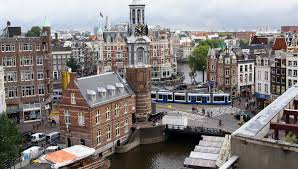 Amsterdam. Photo credit: iamsterdam.com
Amsterdam, capial of the Netherlands, continues to top a ranking of the best 50 Dutch cities to live in but Utrecht is closing the gap, researchers who produce the Atlas voor Gemeenten says, according to dutchnews.nl
The last issue was published 10 years ago but the top three – Amsterdam, Utrecht and Amstelveen, remain the same.
The ranking is based on 50 separate issues, ranging from education to parks, public safety and cultural amenities. 
"Amsterdam owes its leading position to its historic inner city, its location, jobs market and its facilities", researcher Gerard Marlet told broadcaster Nos.
"It has everything a city should have. However, public safety issues and growing inequality could have an impact on Amsterdam's lead", Marlet said.
In addition, tourism is beginning to affect people's perception of the city and this could also cost Amsterdam in the future.
Dordrecht, up from 30 to 14, is the biggest riser in the ranking, while Hilversum, Delft and Oss are among the biggest losers.
Bottom of the list is Emmen in Drenthe, which is just below Sittard-Geleen and Spijkenisse.
See the full story here: www.dutchnews.nl/news/archives/2016/06/amsterdam-is-the-best-dutch-city-to-live-in-emmen-the-worst/
#Amsterdam #Atlas #By #Destinasjon #Ferie #Hilversum #Hovedstad #Kultur #Nederland #Park #Reise #Reiseliv #Reiselyst #Reisemål #Storby #Tur #Turisme #Turist #Utdanning #Utrecht
#Capital #Culture #Destination #Education #Holiday #Netherlands #Tourism #Tourist #Travel