www.hovedsteder.blogg.no is a Norway-based blog about the capitals of the world, with a focus on tourism and travel, the environment, diplomatic affairs, lifestyle, culture and entertainment, food and drink. See also our travel blog at www.minbestereise.blogg.no – Contact us at [email protected]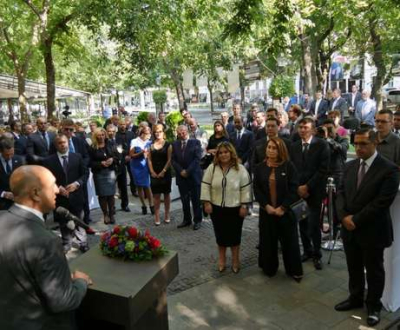 The office of the Azerbaijani embassy has been inaugurated in Bratislava, Slovakia, www.azernews.com reported.
The opening ceremony was attended by Slovak officials, including former President Rudolf Shuster, parliamentarians and the representatives of the diplomatic corps.
Speakers at the event included Azerbaijani Ambassador to Austria, Slovenia and Slovakia, Mr.Qalib Israfilov and several Slovak officials.
They hailed the opening of the embassy`s office in Bratislava as a new chapter in the relations between Azerbaijan and Slovakia.
The Slovak Republic recognized the independence of the Republic of Azerbaijan in 1992. Diplomatic relations between two states were established in 1993.
7 bilateral documents have been signed between the Republic of Azerbaijan and the Slovak Republic.
#Ambassade #Ambassador #Aserbaidsjan #Bratislava #By #Ferie #Hovedstad #President #Reise #Slovakia #Slovenia #Turisme #Østerrike
#Ambassador #Austria #Azerbaijan #Capital #City #Embassy #Holiday #Tourism #Travel