www.hovedsteder.blogg.no is a Norway-based blog about the capitals of the world, with a focus on tourism and travel, the environment, diplomatic affairs and politics, lifestyle, culture and entertainment, food and drink. See also our travel blog at www.minbestereise.blogg.no – Contact us at [email protected]
Facebook: Hovedstederblogg
C Y P R U S
Art: The Winged Lion of Venice / The Venice Lion, Athinon Avenue (Palm Tree Seafront) Finikoudes Beach walk, Larnaka, Cyprus. Artist unknown. Photo by: hovedsteder.blogg.no
This specific type of lion is known as the lion of St.Mark and is the symbol of the city of Venice, Italy. The lion is also one of the four beasts, along with the eagle, the ox, and the winged man (or angel), that symbolize the four evangelists – Matthew, Mark, Luke and John.
According to the Venetian tradition when St.Mark arrived in Venice an angel appeared to him saying: "Pax tibi Marce, evangelista meus" – May peace be with you, Mark, my evangelist.
The lion expresses the power of the Evangelist's word and is itself a symbol of power and majesty. It's wings are an allegory of spiritual elevation and the book summarizes the concepts of wisdom, peace and the state – or city, in Larnaka's case, sovereignty.   
The monument was offered to Larnaka city by Venice Municipality in memory of the Adriatic twinning of the two cities. The unveiling took place on October 2nd 2011. Source: http://publicart.ouc.ac.cy
#Adriaterhavet #Aten #Aveny #Blogg #By #Destinasjon #Engel #Evangelium #Ferie #Hovedstad #Italia #Kunst #Kypros #Larnaca #Løve #Monument #Okse #Palme #Reise #Reiseliv #Reiselyst #Reisemål #Statue #Storby #Strand #Tur #Turisme #Turist #Venezia #Vinge #Ørn
#Adriatic #Angel #Art #Athens #Avenue #Beach #Blog #Capital #Cyprus #Destination #Evangelist #Holiday #Italy #Lion #Ox #Palm #Tourism #Tourist #Travel #Venice #Wing
F I N L A N D
Art: The 8,5 meter high sculpture "Bad Bad Boy" by Finnish artist and sculptor Tommi Toija (b.1974), Helsinki harbour, next to the Finnair Sky Wheel, by the Market Square, October 2014. Photo by: hovedsteder.blogg.no.
#Blogg #By #Destinasjon #Ferie #Finland #Finnair #Flyselskap #Havn #Helsingfors #Helsinki #Himmel #Hjul #Hovedstad #Kunst #Kunstner #Marked #Reise #Reiseliv #Reiselyst #Reisemål #Skulptur #Storby #Tur #Turisme #Turist
#Airline #Art #Artist #Blog #Capital #City #Destination #Harbour #Holiday #Port #Sculpture #Sky #Square #Tourism #Tourist #Travel #Wheel
P O L A N D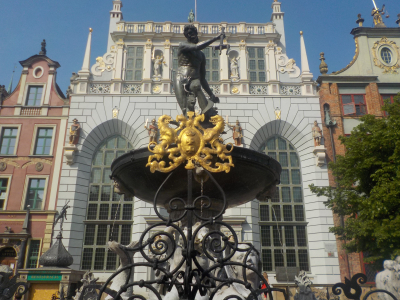 Art: Neptune's Fountain Statue (Fontanna Neptuna), Długi Targ (Long Market Street), by the entrance to Artus Court, Gdansk, Poland. May 2017. Photo by: hovedsteder.blogg.no
The fountain and the bronze statue was constructed with the initiative of Gdansk Mayor Bartłomiej Schachmann, and was designed and constructed by several different artists. Construction started in 1603, and the fountain was opened on 9 October 1633, with the official inauguration of the fountain's operation taking place on 23 March 1634. Formerly, the fountain was painted. The fountain was renovated in 1927, but damaged during World War II, and moved to Parchów, near Bytow. It was put back to operation on 22 July 1957. As part of renovation works in 1988 the fountain's genitals were covered with a fig leaf.
A full renovation took place between September 2011 and April 2012.
#Blogg #Borgermester #By #Design #Destinasjon #Ferie #Fiken #Fikenblad #Fontene #Foto #Gdansk #Hovedstad #Kunst #Neptun #Ordfører #Polen #Reise #Reiseliv #Reiselyst #Reisemål #Statue #Storby #Tur #Turisme #Turist #Verdenskrig
#Art #Blog #Capital #City #Court #Destination #Fig #FigLeaf #Fountain #Holiday #Market #Mayor #Photo #Poland #Street #Tourism #Tourist #Travel #WorldWar